Dilmi le Dillomi Khal Petu Bawi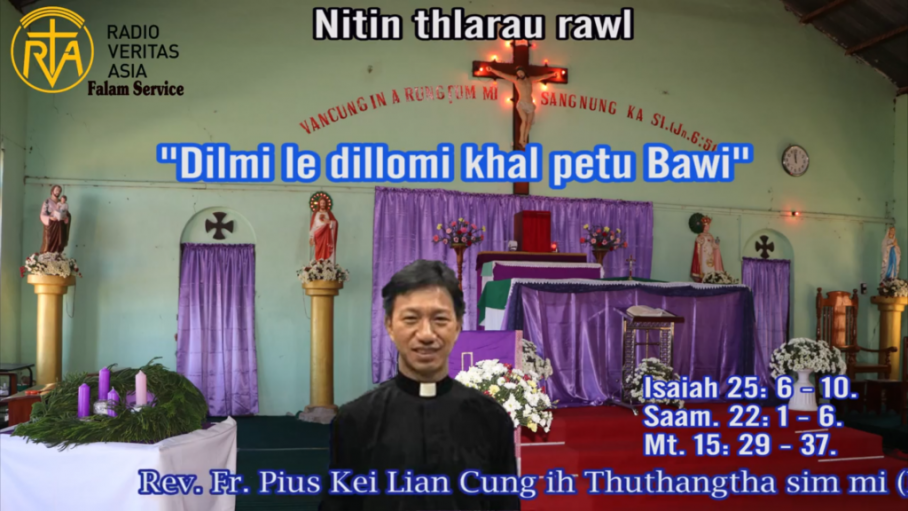 Rev. Fr. Pius Cung ih Thuthangtha sim mi (December 4, 2019 - Nithum ni)
Tuesday, December 03, 2019
"Dil mi le dil lo mi khal petu Bawi"
(December 4, 2019 – Nithum ni)
Thuthangtha sim thei ding le ngai thei ding ih, dam nak le can tha in pe tu Bawipa le kan Pathian hmin thangthat si ko seh. Amen. Kan thulu dingih ka hril mi cu: "Dil mi le dil lo mi khal petu Bawi" ti a si. Kan dil mi siseh, dil lo mi siseh in pe tu Bawipa a si thu; tuisun ih kan sair mi Mt 15:29-37 le Is 25: 6-10 sung in kan zoh tlang pei."Ke awl, mitcaw, mizeng, tongthiam lo le minaa tampi cu Jesuh hnenah an rat pi ih an zaten Jesuh in dam nak a pek. Dam lo pawl rak hruaitu pawl khal in Jesuh ih cah nak, huham rinsan in dam lo pawl kha an rat pi. An dil mi le an tul mi cu Jesuh in famkim zet in a pe. Tulaifangah nang le kei teh tisa dam lo nak le nat nak tuar rero tu kan si pang maw? Kan dam nak Jesuh a si. Pan uh si, dil uh si. Dil mi petu Bawipa Jesuh Khrih kan nei. Dam cak mi kan si le Jesuh ton duh tu pawl, Jesuh ton tul zet pawl khi Jesuh hnenah rak hruai tu si tlang uh si. Kan mah lawng Bawipa pan lo in midang kai hruai tu le Bawipai hnen rak thlen pi tu si hram cio uh si. Bawipai sunlawi nak cu dam lo pawl le dam cia pawl an zaten parah a lang sinsin. Tuisun ih siar mi Isaiah sungih " Miphun tin ih riah siat nak cu mero bangin a kiang ter ding" a rak ti mi cu Jesuh parah a famkim ngah zo. Dam lo pawl ih riahsiat thinhar nak mitthli cu Bawipa in a hnulhul sak zo a si.
  Pumsa ih kan damlo can ah Bawipa hnenah dam nak cu kan dil cio theu. Asinan, kan thlarau a damlo can ah dam nak dil tu hi kan mal tuk theu. Kan thlarau a dam lo ti hman thei thiam lo tu kan tampi ding ka zum. Thuthangtha phuansuah nak le ngai nak ah siseh, thlacam nak le Pathian hlasak nak ah siseh, Biaknak lam le zapi that nak ih hnatuan nak ah siseh, kan kaa a thaw thei lo, kan nuar kan khul a fung a si ah cun, thlarau lam ah awhak, hnaset, mit caw le kebai kan cang pang ding. Pumsa dam cah nak kan dil theu vek in, thlarau dam cah nak khal dil tu, co tu si thei ring ring hram uh si. A diltu hmuahhmuah in an ngah.
 Bawipa cu kan dil mi in pek lawng si lo in kan dil lo mi khal in pek. Ziangahtile kan tul zia a hmu theh. Kan tul zet ti kan theih awk hlan in ka tul mi a hmu cia ih kan dil rero hngak lo in in pe tu Bawipa a si. Minung thawngli lenglo sungah zo hman in "Bawipa rawl in pe aw tiah a dil tu an um lo. Asinan mipi pawl an tlun lam ih rilrawng tamsawl ih an tha a cem thluh ding cu Bawipa in a siang lo ruangah sanghlom 7 le nga mal te thawn khop zet in rawl a do hai a si.
An dil lo mi Rawl cu Bawipa in a pek. Nitin kan nun ah Bawipa cu kan dil mi khal in pe ih dil lo+ mi khal in pe bet a si ti hi thei fiang in zum hnget uh si.
Kandil ih in pek hngak in kan dil lo cing ih in pek mi hi a tha sawn mi a si ti khal hi pom hnget in hnangam uh si. Judah mipi pawl cu damlo pawl ih dam nak an co mi hmu in Pathian an thangthat. Kan nin cu kan mai co mi dam nak hmu ngah in  Pathian thangthat thei tu si hram uh si. Mai co mi dam nak tampi hmu thei tu cun midang dam nak khal tampi a hmu sin ih Pathian a thang that sin sin. Mizapi cu pumsa in an damthluh zo ko nan lamtluan ah thazaang nei ih feh thei dingin rawl an ei a tul. An ei ding khal Jesuh in a pek.
Is 53:5 ah "Hrem nak a tuar mi cu kan dam nak a si, vuak a tuar nak cu kan rundam nak a si" in ti. Dam nak ngah tu kan hrangah hmailam feh bet thei dingin rawl kan ei a tul. Cui rawl cu Jesuh in in pe. Bawipa in pe aw ti ih zo hman ih kan dil hlan ah a mah Bawipa in "Ei uh" tiah a mai taksa , ruangpum in pe a si. Leitlun thilri le taksa dam nak ding Bawipai hnenah kan dil theu.
Pek khal in pe tak tak. Kan dil lo ih in pek mi ei ding rawl, kan thlarau nun nak "A mah Bawipa ih ruang pum taksa tak tak a si. Kan dil lo ih, in pek mi hi a sunglawi in a tha sin sin. Ziangruangah ti le kan thlarau nun nak hrang a si. Pumsa ih dam cah nak le thlarau ih nun nak co ngah thei dingin a dil khal dil uh si, a ei khal ei uh si. Kan dil mi le dil lo mi khal in pe tu, Bawipa a hmin thangthat si ko seh. Amen.