Lungdaang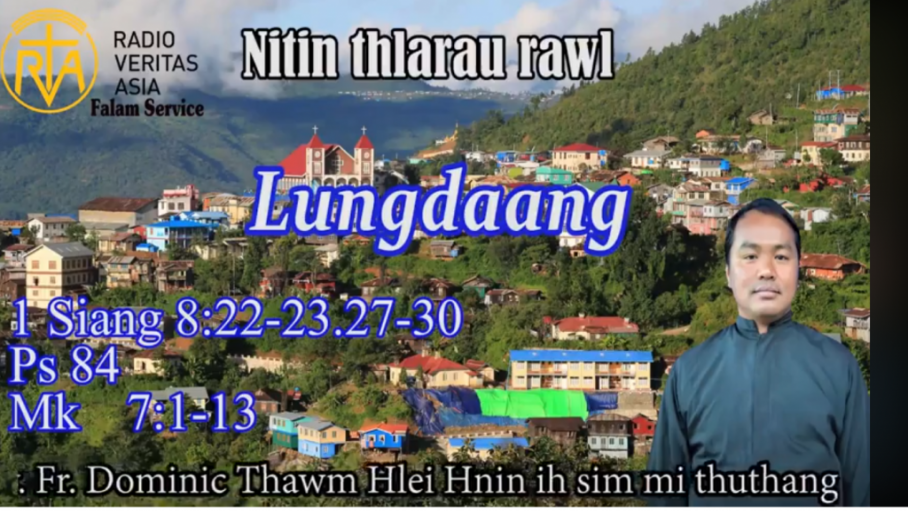 Tuesday, February 11, 2020
Feb 11, 2020 hrangih Thuthangttha, Thlarau rawl
Lungdaang
Caantluang zarhnganak, tlawngkai nihnih ni (Feb 11, 2020)
Siarding: 1Kgs 8:22-23, 27-30; Ps. 84:3-5, 10-11; Mk. 7:1-13.   
          Kan thulu hi fiangter hmaisa sehla, tulai san cu kan ttong khal kan cawkrwi ter thluh ih ruangah kan mai pupa ttong diktak ih kan neihmi thuhminsak khal kan hloh ter mi an tampi.Tu-ah "Lungdaang" timi ttongfang thulu ah ka rawn hmang ih "lungdaang" tivek ka thei dahlo titu nan tampi ding. Kan pupa san lai ah Inn an sak tikah an inn luhnak hmai ah a thuahthuah in ''cang'' an dawl ih cu tawk ihsin sangkapi ah an thleng. Tulai ih kan theih ol ding bik cun inn luhnak ''kailawn'' a si. Khimi khi kan pupa pawl cun "lungdaang" an rak ti. Himi thulu ihsin "Kan Bawipa Jesuh hnen ih kan fehnak ding hrang ih a rak um mi thu," culole, ''Bawipa Jesuh hnen in thlengtertu nunphung" thu kan hlawm aw ding.
         Kan siarmi Bible ah "Daan thiam pawl le Farise pawl" in Jesuh ih dungthluntu pawl ih umtudaan an soiselnak kan hmu. Jesuh ih dungthluntu pawl cun an kut kholh hmaisa lo in rawl an ei ruangah nunphung ngainatu pawl hrang le daan thuntu pawl hrang ahcun "hnaihnoknak'' ah a cang. Himi thu ah Jesuh in zirhnak a nei ih cui zirhnak ahcun "Pathian ih thupek pawl hnakin milai ih nunphung kha nan thupitter" a ti ih cuticun "milai ih nunphung in Pathian ih thupek cu nan khuh hlo ter thluh" ti ah ralrinnak a rak pek. "Daan thiam pawl le Farise pawl" cu Jerusalem ihsin an ra ih Galilee peng ah an thleng.Cun Jew miphun pawl cun "kut kholh" thu le daan hi an thei thluh cia zo nan tui kan siarmi bible ahcun cangantu Mark cun "unclean hands, that is, without washing them" a ti. Kan laittong cun "a thiangfailomi kut, cucu, kholh lomi kut" ti in a sim fiang sal. Jew miphun pawl si hai sehla simfiang bet a ttul nawn lo. Curuangah Bawipa ih thuzirhmi a ngaitu mipi cu "Jew miphun an si lo" ti in kan la thei.
         Tuisun kan siarmi thuthawn pehpar aw-in ralrin ding pakhat a um. Kan Falam Bible ah "dawrih an leimi thil khal a daan vekih an kholhta lo ahcun an ei duh lo" ti in Bible lettu cun a let. Mirang Bible ahcun, "on returning from the market place they never eat without first sprinkling themselves" ti a si. Ziang ti in a dangaw ti a si le, kan Falam ttong ahcun kholh dingmi cu "leimi thilri" a si ih mirang bible ahcun kholh dingmi cu "dawr fehtu minung" a si. Kan theihtawk te ahcun himi daan cu "thilri" kholh ding hnakin "minung kholh ding" a si sawn. "Thilri kholh ding" cu harhdamnak hrangah a si ih "minung kholh ding" cu daan vekih thianghlimnak ding hrangah a si. Himi thianhlimnak daan thawh pehaw in a thupi sawn cu ziang a si ti a sim fiang, thinlung a si. Aw le kam lawng si loin mai nun ih thlun ding le nunpi ding ah in sawm. Cun himi thinhlimnak daan pawl hi Pathian ih pekmi daan ti hnakin an mai phuahcop le betmi daan terek a tamtuk thu a lang fiang. Colose 2:22 "Hi daan terek pawl cu voikhat ti suak ngah hnu ahcun san a tlai nawnlo mi thil pawl an si. Milai ih tuahcopmi daan le zirhnak lawng an si."Daan thiam pawl le Farise pawl cun "kan pupa pawl ih in zirhtami daan" an thlun lo ti ih an phun an zai, mawh an phurh vek in Jesuh khal cun cui "pupa pawl ih daan" thawn a let ve. An pu an pa pawl ih daan cu Pathian in Moses hnen ihsin a pek mi daan pawl an si.
         Moses hnen ihsin daan tthattha tampi an nei, asinan cui daan pawl cu ttha ten thlun duhloin an mai duhdaan in a sullam an la. Moses ihsin a ra mi Pathian ih thupek ahcun Suahlannak 20:12 "nan nu le nan pa nan upat pei; cuticun Bawipa nan Pathian ih ka lo pekmi leiram par ahcun sansau in nan nun ding." ti a si. Daan peksalnak 5:16 khalah, "Bawipa nan Pathian a simi keimah ih thupek bangtukin nan nu le nan pa cu upat uh; cuticun nan lamzin a tluang dingih ka lo pekmi ramah reipi nan nung ding" ti a si. Nu le pa camsiat ding a si lo; Suahlannak 21:17 "Mah ih nu asilole mah ih pa a camtu cu thah a si pei" ti-in kan hmu. Puithiam hnattuan 20:9 khalah "a nu siseh, a pa siseh a camtu cu thah a si pei; a nu le a pa a camsiat ruangah a sualnak thisen cu amah ih lu parah a thleng a si." ti in kan hmu. Nu le pa parih kan ttuanvo le kan tuah ding mi in sim. Asinan mi hrek khat cu "korban" timi daan thu hmang in nu le pa an zoh duh lo. Korban timi ttongfang cu "Aram ttongfang qorban" ihsin a ra ih Greek pawl in korban ti in an hmang ve, a sullam cu cu "Pathian hnen ih pekmi" ti a si. Himi cafang hi thlan parih nganmi ah an rak hmu ttheu, ziangah ti le mithi ruak thawi an phum cihmi hlawn thil duh ah misual pawl in cui thlan cu an rak boh ttheu ti a si ih cui misual pawl ih ral ttih ah "himi thil pawl cu Pathian hnen ih pekmi a si - korban" ti in an nganta. Pathian ih ta a si zo ruangah rukru le misual pawl in an la ngamlo ti a si. Tu-ah fa le pawl in nu le pa an zoh paihlo le an kilkhawi duhlo tikah an neih an hlawnthil le sumsaw pawl cu "Pathian hnen ih pekmi a si - korban" an ti ih cuticun nu le pa zoh a ttul nawnlo" an ti.  Korban timi ttongkam cu a peeng zawngin an hmang. Ti duhsan cu "Nu le pa upat ding, cawm ding, tuamhlawm ding" timi Pathian ih pekmi daan cu an thei tuk ko na-in nu le pa cawmnak ih an hman dingmi an neih sumsaw le hlawnthil cu "Pathian hnen ih pek mi - korban" a si an ti ih nu le pa cawm nawnlo le tuamhlawm nawnlo in an um. Cuticun, Pathian ih thupek "nu le pa upat ding" ti cu an thlun nawn lo, an pahbal.
        Himi thu umdaan ih a khih hmuh mi cu "daan hi an mai nun ah an nun pi lo, an mai duhcaan ah sirhsan ah an hmang men, an mai duh zawng in an kuai, an dir men" ti a si. Curuangah Jesuh in nan aw le kam men, kan nunnak in a pe lo ti ih a sinak a si. Cucu Prophet Isaiah ih rak simcia mi thawn a sim hai. Isaiah cun " Is 29:13 ''Himi pawl cun in bia nan an ttong cu tican neilo a si ih an thinlung cu khuimaw lamah a vakvai. Annih hrang ahcun biaknak timi cu milai ih tuahcop mi daanterek le thilti ttheu daan pawl khi a si ih zoh loih an siar  mi pawl khi a si." a ti. Himi daan pawl hi siar men le thei men ding siloin kan mai nun ah kan thlun ding a si ih cuti ih kan thlun a si le Daan famkimtertu Jesuh (Mt. 5:17) ih dung fel te-in kan thlun thei ding. Moses ih daan, kan pupa pawl ih daan le thukham hlun cu Innpi Jesuh hnen in thleng tertu "Lungdaang" an si.